TITLE/LINK:
The Ghost of Christmas Past
AUTHOR:
Maeve of Winter
FANDOM:
Batman
PAIRING:
Batman/Harley Quinn
SUMMARY:
AU where Harley is a hero. Harleen Quinzel returns to Gotham, and Bruce must struggle to put aside past demons.
DISCLAIMER:
I don't own these characters, nor am I making any money from them.
Custom Harley Quinn hat I had made. Worn only a few times at conventions. I think it's made of fleece, it's a heavy material.
$30 plus shipping; I'll ship worldwide.
If you're interested, please e-mail me at amara_anon at hotmail dot com. Thanks!
-
Harley Quinn, Catwoman, & Poison Ivy Art Print signed by Al Bigley
- the artist who designed the packaging for Harley's 1997 Kenner action figure
-
Joker & Harley Quinn Art Print signed by Rob Granito
The rest of my Harley items on eBay can be viewed
here
.
If you want to forego eBay and make me an offer on anything that hasn't been bid on yet, you can contact me at amara_anon at hotmail dot com.
The Harley mug and Love on the Lam graphic novel have been sold!
Mad Love (3rd Printing graphic novel) and Batman: Harley Quinn (1st Printing graphic novel) still available before I put them up on Amazon if you want to make an offer.
Thank you for looking! :)
Starting bid on each of these prints is $9.99.
All dolls/action figures are new in box and never opened!
The earliest auctions end on November 20!
-
Harley Quinn Mug - WB Store Exclusive
-
Harley Quinn Statue by Ron Lee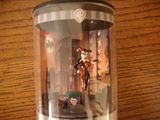 -
Harley Quinn Miniature Figurine with Joker jack-in-the-box
-
Harley Quinn 12" Doll & Hyenas by Hasbro
-
Harley Quinn Barbie Doll
-
Harley Quinn Action Figure by Kenner 1997
-
Batman Vs. Harley Quinn Action Figures 2-Pack "Only in Jest" Rare Toys 'R Us Exclusive
-
Harley Quinn #1-37 Complete Comic Book Series except for #38
- Issue
#1
is autographed by Terry Dodson.
-
Harley and Ivy: Love on the Lam graphic novel
-
Batman: Arkham City #3 and #4 Comics Lot
-
Gotham City Sirens #24 Comic Book
-
Harley Quinn Ladies Junior Size Shirt
I will be adding more items later this week. You can view all my listings
here
.
I also have two graphic novels that I will be listing on Amazon soon, Mad Love (the 2nd edition cover), and Batman: Harley Quinn (her intro to mainstream comics by Paul Dini). If anyone wants to grab them before they go up on Amazon, please PM me with an offer.
Thanks for looking!
Hi folks! I'm selling my entire Harley collection on eBay. Please check it out! I ship worldwide and combine shipping on multiple wins.
Getting into the Spirit
Author: Cold Nostalgia
Disclaimer: Don't own. No profit. Don't sue.
Prompt: Presents
Characters/Ship: Harley, Ivy
Word count: 792
Rating: G
Summary: Even Ivy can get into the spirit of Christmas.
Title:
This year I thought we might do something to mark the occasion, so I'd like to present to you:
The A_B_Joker Christmas Fanworks Challenge

13th of November - 27th of December




Interested? Maybe? Probably? Most Definitely?

Here's what to do:

1. Pick a partner for Harley, it can be a friend or a love interest.

2. Pick one prompt from one of the tables below.

3. Write a fic with a bare minimum of one hundred words, or make a pretty picture.

4. Submit it before the 28th of December. Simples!

5. Participate and you'll get a shiny banner.

Have a looksie at the prompts below:

(
Here
Collapse
)
It's that time of year again when the feeling of Christmas is slowly starting to fill the air: Decorations are slowly starting to appear in shops, children everywhere are starting to think about their letters to Santa, and adults everywhere are starting to stress about money.
Are you still reading GCS
Yes, but it's not the best thing I've ever read.
Yes, but i'm thinking of dropping it soon.
No. I dropped it a while back.
Other (please give reason)
I recently got caught up to speed on all the goings on in GCS. Since there seems to be so little discussion about the comic, I was wondering if anyone around these parts was reading it?
Please credit if you take any!! Blanks are NOT bases.





^Preview^
( Read more... )